Fall 2015 TV Previews are here and with it comes a new wave of comic book tv shows. Here is my guide to new and returning tv shows based off of comic books.
DC COMICS
DC's Legends of Tomorrow (CW)- New Show
Series Premiere: Fall Midseason
DC's Legends of Tomorrow is a spin-off from Arrow and The Flash starring Brandon Routh, Caity Lotz and Victor Garber. Also Arthur Darvill from Doctor Who will be starring in Legends of Tomorrow. From the trailer it looks like he is playing a time traveler….and as a Doctor Who fan that just makes me smile.
Official Synopsis:
"When heroes alone are not enough… the world needs legends.  Having seen the future, one he will desperately try to prevent from happening, time-traveling rogue Rip Hunter is tasked with assembling a disparate group of both heroes and villains to confront an unstoppable threat — one in which not only is the planet at stake, but all of time itself.  Can this ragtag team defeat an immortal threat unlike anything they have ever known? DC'S LEGENDS OF TOMORROW stars Victor Garber ("The Flash," "Alias"); Brandon Routh ("Arrow," "Superman Returns"); Arthur Darvill ("Doctor Who"); Caity Lotz ("Arrow"); Ciarra Renee ("Pippin"); Franz Drameh ("Edge of Tomorrow"); with Dominic Purcell ("The Flash," "Prison Break"); and Wentworth Miller ("The Flash," "Prison Break"). 
Arrow (CW) – Returning Show
Season 4 Premiere: TBA. Probably Early October. Wednesday at 8:00 p.m.
From a recent interview The Hollywood Reporter did with Arrow's executive producer Marc Guggenheim says that, "Diggle (David Ramsey) will carry on Oliver's tradition of crime fighting in Starling City. Oliver advised him to get a mask, and Diggle seemed open to it. ".
Arrow Season 4 Teaser
The Flash (CW)- Returning Show
Season 2 Premiere- TBA Tuesdays at 8:00 p.m.
The rumor mill has been buzzing that the Hal Jordan, aka Green Lantern might, be introduced introduced in season 2 of the Flash.
Supergirl (CBS)- New Show
Series Premiere- November 2015 (Mondays at 8:00 p.m.)
Official Synopsis:
Supergirl is an action-adventure drama based on the DC Comics character Kara Zor-El (Melissa Benoist), Superman's (Kal-El) cousin who, after 12 years of keeping her powers a secret on Earth, decides to finally embrace her superhuman abilities and be the hero she was always meant to be. Twelve-year-old Kara escaped the doomed planet Krypton with her parents' help at the same time as the infant Kal-El. Protected and raised on Earth by her foster family, the Danvers, Kara grew up in the shadow of her foster sister, Alex (Chyler Leigh), and learned to conceal the phenomenal powers she shares with her famous cousin in order to keep her identity a secret. Years later at 24, Kara lives in National City assisting media mogul and fierce taskmaster Cat Grant (Golden Globe Award winner Calista Flockhart), who just hired the Daily Planet's former photographer, James Olsen (Mehcad Brooks), as her new art director. However, Kara's days of keeping her talents a secret are over when Hank Henshaw (David Harewood), head of a super-secret agency where her sister also works, enlists her to help them protect the citizens of National City from sinister threats. Though Kara will need to find a way to manage her new found empowerment with her very human relationships, her heart soars as she takes to the skies as Supergirl to fight crime.
Gotham (Fox)- Returning Show
Season 2 Premiere- No official date. Mondays

It was recently announced by Fox that Morena Baccarin, who plays Dr. Leslie Thompkins, will now be a series regular in season 2 of Gotham. The rumor mill has been buzzing as to which famous villains will appear in the second season; one villain named is Mr. Freeze. The show's producer John Stephens at Wonder Con that "We will meet Clayface and The Mad Hatter" in the second season. He also announced that we will explore more of Jerome (Cameron Monaghan)'s story in season 2. If you remember from season 1, we met Jerome at the circus and are all believing that he will be the Joker.
Heroes Reborn (NBC)- New Show
Series Premiere- 2015
Official Synopsis:
From original creator Tim Kring, the supernatural phenomenon begins again with a fresh crop of inspiring heroes who take on the ultimate struggle between those with extraordinary abilities and those with nefarious motives to hunt and harness their powers. Epic adventures await these newly empowered allies as they cross paths with some of the original characters (such as the beloved "HRG" and fan-favorite time-traveler Hiro Nakamura), unlocking the mysterious fate of the universe and their place within it.
VERTIGO COMICS
iZombie (CW)- Returning
Season 2 Premiere: TBA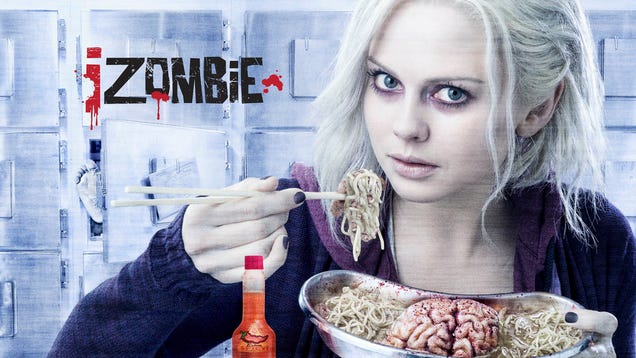 If you read my review of iZombie, then you already know how much I love this show. So glad it's back for season 2!! No official word yet on the plot for season 2, but from my guess it is all going to be about revenge after the shocking death in season 1.
Lucifer (Fox)- New Show
Series Premiere- 2016
Official Synopsis:
Bored and unhappy as the Lord of Hell, The original fallen angel, Lucifer Morningstar has abandoned his throne and retired to L.A., where he owns Lux, an upscale nightclub.
Preacher (AMC)- New Show
Series Premiere-TBA

Directed by Seth Rogen and Evan Goldberg.
Synopsis:
Based on Garth Ennis and Steve Dillon's twisted '90s comic book series, "Preacher" is about Jesse Custer, a conflicted Preacher in a small Texas town who merges with a creature that has escaped from heaven and develops the ability to make anyone do anything he says. Along with his ex-girlfriend, Tulip, and an Irish vampire named Cassidy, the three embark on a journey to literally find God.
MARVEL COMICS
Agent Carter (ABC)- Returning Show
Season 2 Premiere Date: No Official Date
I am so excited to see Agent Carter back for a season 2!
Official Synopsis for season 2:
Marvel's Agent Carter returns for a second season of adventure and intrigue, starring Hayley Atwell in the titular role of the unstoppable secret agent for the SSR (Strategic Scientific Reserve). Dedicated to the fight against new atomic age threats in the wake of World War II, Peggy must now journey from New York City to Los Angeles for her most dangerous assignment yet. But even as she discovers new friends, a new home – and perhaps even a new love – she's about to find out that the bright lights of the post-war Hollywood mask a more sinister threat to everyone she is sworn to protect.
Daredevil (Netflix)
Series Premiere- Season 1 is available on Netflix. Season 2 premieres 2016
Technically this show is not a new or returning show for Fall 2015. It was released on Netflix on April 10, 2015. I believe it deserves to be on this list because it is one of the best comic book tv shows out there and I highly recommend it to anyone with a pulse. This is a very well written and filmed tv show. The fight choreography is phenomenal!!
Agents of Shield (ABC) – Returning Show
Season 3 Premiere- September 2015
The Possibility of The Secret Warriors in season three?
Fans caught a glimpse at the code name, "Caterpillars" in season two of Agents of Shield. The code name is used in the comics to reference The Secret Warriors, an underground superhero team. In the comics, they played major role in fighting off the secret Skrull invasion. The team was specifically made up of obscure heroes because Fury believed they were the least likely to be Skrull sleepers.
Now could we see them in season three? According to executive producer Jeffrey Bell, "But you know, the idea of a team of powered people is something we've seen in the show, and I think there's a world down the road where we do our version. We do our version of all these things so they may not be Secret Warriors but there's a whole lot of super-powered people fighting super-powered people. "
The Defenders (Netflix) – New Show
Series Premiere Date: No Official Date. 2016.
"Daredevil, Jessica Jones, Luke Cage, and Iron Fist team up to fight crime in New York City." I included it on the list because after seeing Daredevil, I can't wait to see more of this Marvel and Netflix partnership.
A.K.A Jessica Jones (Netflix)- New Show
Series Premiere: December 2015
David Tennant is in it….need I say more? I'm sold.
Imdb summary: A former super-heroine decides to reboot her life by becoming a private investigator.
Luke Cage (Netflix)- New Show
Series Premiere- 2016
Luke Cage is an ex-con with superhuman strength and unbreakable skin who fights crime on the streets of Hell's Kitchen.
Mike Colter will star as Luke Cage.
Iron Fist (Netflix)- New Show
Series Premiere- TBA
Danny Rand is a martial arts expert, and the superhero Iron Fist.
IMAGE COMICS
The Walking Dead (AMC)- Returning Show
Season 6 Premiere- October 2015
The Wolves are coming….
The Walking Dead" producer Greg Nicotero has already been quoted as saying the Wolves are creating a "zombie army." That means we could be seeing a herd of walkers taking down the Alexandria Safe-Zone walls.
Fear The Walking Dead (AMC)- New Show
Series Premiere- July 2015
Official Summary:
In this epic action packed The walking dead "companion series"/prequel we learn how the zombie outbreak happens with a whole new cast and a lot of twist and turns throughout.
Did I miss any? Let me know in the comments below. So which shows are you looking forward to? I definitely can't wait for iZombie, Agent Carter, and Daredevil to return. I'm interested in seeing how Preacher and Lucifer turn out.