The new Suicide Squad trailer is here and I have some screen shots! It premiered last night on the CW during the DC Films Presents: Dawn of the Justice League.
Take a look at the ultra fun trailer:

Here are my thoughts on the trailer as well as some screen caps:
1.) Captain Boomerang
Captain Boomerang is the first person you see in this new trailer and I have to say I was pleasantly surprised by his comedic moments in the trailer. You didn't really get a sense of his character in the previous Comic Con trailer (the one that was never really meant for public viewing but the studio released it anyway). I really can't wait to see more of this guy. I have a feeling he is going to have some of the best comedic moments in the film. 
2.) Harley Quinn
Now I actually fell in love with Margot Robbie as Harley Quinn in the Comic Con trailer and this one just took it to another level. Plus I can't wait to see Harley's origin story.
This screenshot looks like it is representing a baptism; the Birth of Harley Quinn.
3. Mystery Subway Dude
This trailer gave us some glimpses into a mysterious man destroying a subway. Who is this guy? Anyone have any ideas?
Here are some more screen caps of him:
4. The Enchantress' Powers
I'm going to take a guess that the image above is our glimpse into what the Enchantress can really do. In the trailer, we get to see two sides of her; one where she looks fairly normal and the other is a witch. I don't know too much about this character, but I can't wait to see more of her.
5. The Joker
I NEVER thought I would be saying this after seeing the first image of Jared Leto as the Joker, but I REALLY can't wait to see him as the Joker. The first image just freaked me out cause I thought of the Joker as someone with grills. But this trailer made me look past the grills and see a fun psychotic performance of the Joker.
5. Killer Croc Looks Better Than Doomsday (Batman v Superman)
I wasn't thrilled when I saw Doomsday in the Batman v Superman trailer. Doomsday felt too CGI. Now looking at Killer Croc, I'm impressed. I love the makeup effects they did with him. 
6. Overall Style and Color Palette 
At first when I saw Harley Quinn's pink and blue, I was confused because I kept thinking she mostly wears red and black. But now we are seeing more from this film, I feel like the director, David Ayer, has a great sense as to his overall color palette for the film. Recently we saw the neon colors in the poster marketing and now in the trailer again with the title card and even in the Joker's car and wardrobe.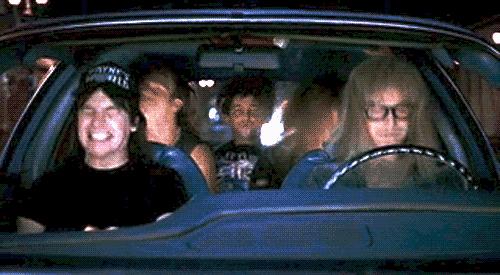 7. THE MUSIC
You put Queen's Bohemian  Rhapsody in your trailer, you'll going to have a good time. BRAVO to the editor. I thought it was edited perfectly to the beat of Bohemian Rhapsody. I was so rocking out to this trailer. 
Screen Shots: